Exxon
HyJet IV-A
$18QT
Trast Aerosupermarket (Aquiline Internationl Goup of Companies) stocks large quantity of Mobil Jet Oil II at its premises at Sharjah International Airport Free Zone (SAIF Zone) available for immediate delivery worldwide.
UAE Phone: +971 (6) 5570710, International phone: +8 835 1000 124 3547 e-mail:
Exxon HyJet IV-A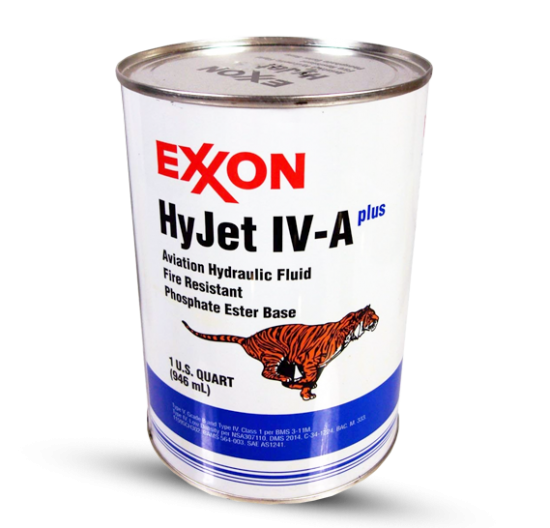 Sale Exxon HyJet IV-A
High Temperature Stability for Long Oil Life.
The dominant degradation mechanism for phosphate ester
hydraulic fluids is reaction with water at elevated temperatures.
Since all phosphate ester hydraulic fluids are highly hygroscopic
(they tend to absorb water from the atmosphere very rapidly),
aircraft systems typically contain water concentrations ranging
from 0.2% to 0.8% water, sometimes even more. Reaction of
phosphate esters with water produces acids, which if
unchecked, can damage elastomers and etch metal surfaces
within the hydraulic systems. All phosphate ester aviation
hydraulic fluids contain acid control additives designed to
immediately neutralize the acids formed. When the acid control
additive is fully consumed, the acid formation rate increases very
rapidly. Fluid acid number (which used to be called neutralization
number) can then rapidly reach levels which may harm aircraft
hydraulic system components.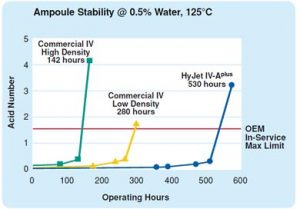 To protect against such damage, aircraft manufacturers typically
recommend a maximum acid number of 1.5, beyond which the
oil should be replaced. The time it takes a fluid to reach an acid
number of 1.5 can be considered as the in-service life of the fluid.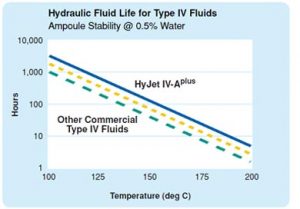 The Ampoule Stability test (see top graph) measures the
thermal stability (resistance to molecular breakdown at high
temperature) and the hydrolytic stability (resistance to reaction
with water) of phosphate ester aviation hydraulic fluids.
Fluid life as a function of temperature at 0.5% water contamination (see bottom Hydraulic Fluid Life graph) is
estimated from ampoule stability experiments.
Your local ExxonMobil Aviation Lubricants representative can provide complete details on recommended conversion procedures.
---
» Approvals
» Msds
» High Temperature Stability for Long Oil Life
» Superior Stability
» Low Density Means Lower Operating Costs
» NATIONAL INDUSTRIAL CHEMICALS NOTIFICATION AND ASSESSMENT SCHEMFULLE(PUBLIC REPORT)
» Rust Protection
Advanced fire-resistant Type IV phosphate ester aviation hydraulic fluid.