Exxon
HyJet IV-A
$18QT
Trast Aerosupermarket (Aquiline Internationl Goup of Companies) stocks large quantity of Mobil Jet Oil II at its premises at Sharjah International Airport Free Zone (SAIF Zone) available for immediate delivery worldwide.
UAE Phone: +971 (6) 5570710, International phone: +8 835 1000 124 3547 e-mail:
Exxon HyJet IV-A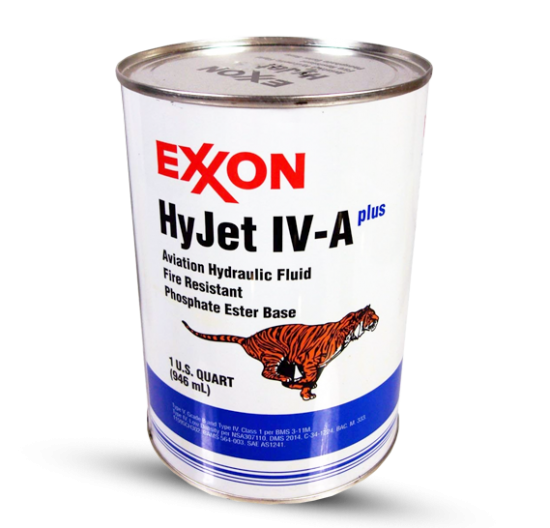 Sale Exxon HyJet IV-A
Rust Protection
Dissolved water in a phosphate ester hydraulic fluid does not
cause rust, although the separated water phase can cause
rapid corrosion of ferrous parts. Water in normal concentrations
of up to about 1% is soluble in the fluid and not a cause for
rust-related concerns. However, in absence of potent rust
inhibitors in the fluid, if water concentration exceeds 3%,
equipment damage can be rapid and severe.
As the photos to the right demonstrate, HyJet IV-Aplus offers
superior rust protection relative to competitive Type IV products
in the ASTM D665A rust test. This superior rust protection
provides a measure of security against potentially damaging
water contamination of an aircraft hydraulic system.
• HyJet IV-Aplus shows no rust on the test parts at
5% or 10% water mixed with fluid. The standard ASTM
D665A test measures rust at 10% water.
• Competitive Type IV fluids show severe rust even at
5% water. At 10% water the rust damage observed
becomes extremely severe.
---
» Approvals
» Msds
» High Temperature Stability for Long Oil Life
» Superior Stability
» Low Density Means Lower Operating Costs
» NATIONAL INDUSTRIAL CHEMICALS NOTIFICATION AND ASSESSMENT SCHEMFULLE(PUBLIC REPORT)
» Rust Protection
Advanced fire-resistant Type IV phosphate ester aviation hydraulic fluid.