Exxon
HyJet IV-A
$18QT
Trast Aerosupermarket (Aquiline Internationl Goup of Companies) stocks large quantity of Mobil Jet Oil II at its premises at Sharjah International Airport Free Zone (SAIF Zone) available for immediate delivery worldwide.
UAE Phone: +971 (6) 5570710, International phone: +8 835 1000 124 3547 e-mail:
Exxon HyJet IV-A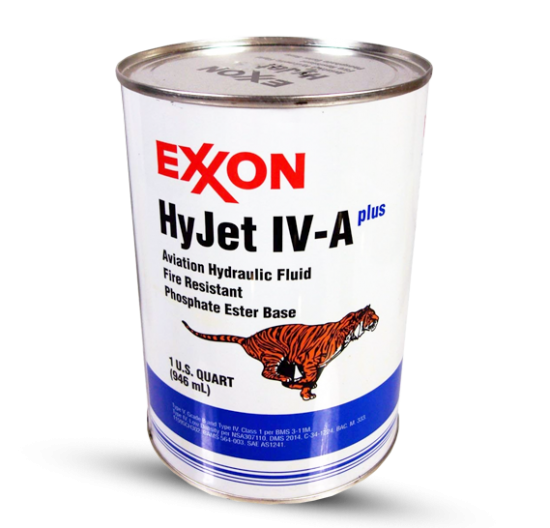 Sale Exxon HyJet IV-A
Exxon HyJet IV-Aplus fire-resistant aviation hydraulic fluid is used in commercial aircraft hydraulic systems
where phosphate hydraulic fluids are recommended.
Exxon HyJet IV-Aplus meets or exceeds the following industry and builder specifications. It is approved against
the aircraft manufacturer requirements and is included in their Qualified Products Lists.
Features and Benefits
Exxon HyJet IV-A plus offers the following key features and benefits:
Features
Advantages and Potential Benefits
Best in high temperature stability among Type IV fluids
Longer fluid lifeLesser need to replace fluid due to  degradation Reduced hydraulic system maintenance  costs
Lowest density Type IV fluid
Reduced weight of the hydraulic fluid carried by   aircraft Reduced aircraft fuel consumption, lower  operating costs
Effective rust protection
Reduced the risk of equipment damage in the event of  major water contamination
Excellent low temperature flow (viscosity) properties
Precise hydraulic system control and response even   during extended range/polar flightsLonger equipment   life
Excellent deposit control
Longer equipment lifeReduced maintenance costs
Excellent protection against electro-chemical corrosion Protection against servo valve and pump damage   (erosion)
Protection against servo valve and pump damage
Approved by all major aircraft manufacturers
Use as fleet lubricant by airline operators
Fully compatible with all approved phosphate ester
Flexibility in use by airline operators
---
» Approvals
» Msds
» High Temperature Stability for Long Oil Life
» Superior Stability
» Low Density Means Lower Operating Costs
» NATIONAL INDUSTRIAL CHEMICALS NOTIFICATION AND ASSESSMENT SCHEMFULLE(PUBLIC REPORT)
» Rust Protection
Advanced fire-resistant Type IV phosphate ester aviation hydraulic fluid.